POOLCORP sustainable work practices are integral to distributing world-class products. Throughout the production of a supplier's products, the use of resources, product storage, waste disposal, and many other processes can cause adverse effects on the community, environment, and natural resources. These adverse effects shall be minimized by the supplier to safeguard the health and safety of its workers, the public, the flora, and the fauna.
POOLCORP's sustainability goals that we work towards includes the reduction of greenhouse gases and other harmful air emissions, the responsible management of water use in both quantity and quality, energy conservation, carbon minimization, resource efficiency to include the use of renewable resources, minimum and appropriately-handled waste to include wastewater, proper chemical management and storage, and environmental incident reporting. POOLCORP breaks our sustainability into the five categories below:
Environmental Health
As a company that distributes products and transports chemicals across North America, Europe, South America and Australia, protecting the environment and our people, and using resources responsibly is a foremost concern. We adhere to the principles of Responsible Care in the distribution of our products and comply with local, state, and federal regulations pertaining to our packaging, labeling and transportation. We also expect vendors to meet these standards. All POOLCORP employees are encouraged to report any environmentally-harmful acts that they become aware of with no threat of negative repercussions on their part.
Energy Conservation
POOLCORP is continuously exploring opportunities to reduce our energy consumption. To that effort, we opened our first thermal heated sales center in Gibson Colorado in 2018. Radiant heat systems have a proven record of reduced energy usage relative to other forms of heating in commercial / industrial buildings. The savings result from several factors such as the ability to sustain comfort at lower indoor air temperatures, reduced air temperature stratification, non-pressurization of rooms (which leads to higher rates of air leakage), and the ability to operate with lower water temperatures. Although some projects have shown savings in excess of 50%, a more conservative estimate is 10 to 20% in savings for this location.
Over the last few years we have looked more and more into efficient lighting systems for our branches. In the last two years we have successfully installed LED lighting systems in two of our sales centers. With these installs we can cut down energy usage, while at the same time improve the lighting at the branches. We are currently working with more of our sales centers to install LED lighting systems to improve their energy efficiency. The plan is to continue improving each of our sales center's energy efficiency with the most effective and efficient lighting system we can.
POOLCORP has switched 80% of our landscape lighting lamps from halogen to LED, effectively reducing the energy usage in our customers' homes
Air Quality
GHG Emissions
POOLCORP instituted an idle program in May 2017. In response to that initiative, idle times dropped over 50% as compared to the prior year. Assuming 60 minutes of idling is equivalent to a gallon of fuel and 25 miles of engine wear, we consumed roughly 28,000 gallons less in fuel and avoided 700,000 miles of engine wear and NOx release from our vehicles.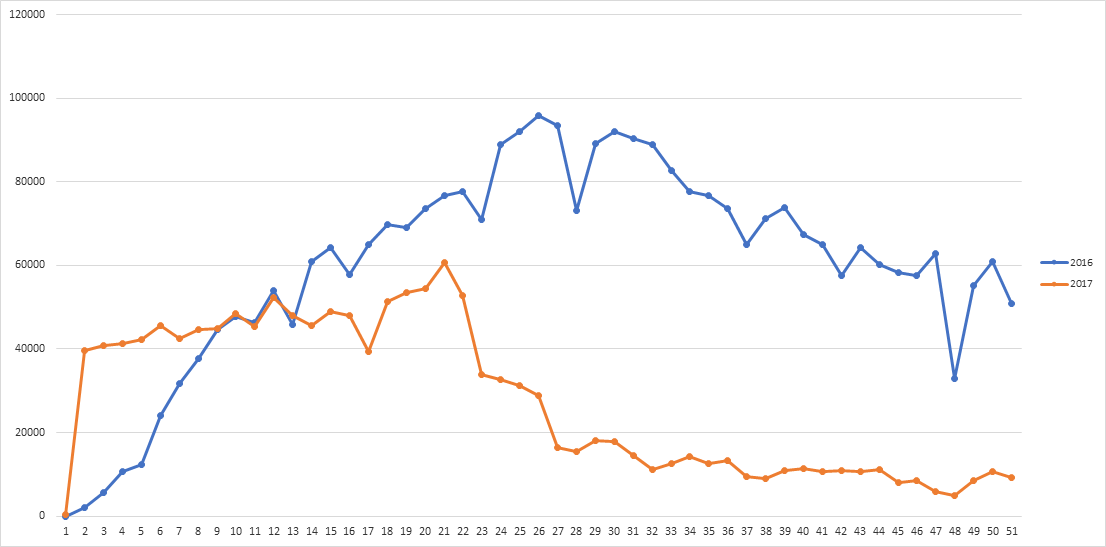 We continually invest to modernize our fleet to reduce emissions and improve safety for our drivers.
POOLCORP has purchased and placed in service several alternative fuels vehicles. Alternate fueling methods such as natural gas, propane gas and hydrogen cell technology can offer several advantages including:
Fuel savings
Emission reduction
Increased intervals between oil changes (less carbon pollution in oil)
Increased intervals between particulate filter changes (less carbon output)
Less engine regenerations
Increased fuel mileage
POOLCORP endorses battery-operated power equipment and propane gas zero-turn mowers to reduce GHG emissions and harmful noise.
NAFA Sustainable Fleet Accreditation Program
The NAFA Sustainable Fleet Accreditation Program is designed to recognize and reward fleets that are taking significant steps to incorporate sustainable actions into their everyday operations. POOLCORP recognizes the value in participating in this program and intends to use this platform to improve the safety and health of our 600+ drivers.
Water Conservation
POOLCORP realizes that responsible water management promotes the future success of our company and, more importantly, the whole world. In order to ensure that we support this idea, POOLCORP decides to work with supplier's who feel the same about water conservation. In addition, POOLCORP has created the items below to help conserve water even more:
POOLCORP developed their own line of all-organic fertilizers, pesticides, and soil amendment products. Information on these products can be found at the Good Natured for All website.
Resource Management
Here at POOLCORP, we understand the impact that proper resource management can make for our company and for the communities affected by the production of our suppliers' products. Resource management practices that we are currently performing are found below:
In the procurement of our products, POOLCORP properly evaluates our suppliers' business practices while producing products for us. We choose to work with suppliers that share the same sustainability goals as we do.
Properly store, sell, and transport our products that include chemicals and silica-based products.
Recycling
During 2017 POOLCORP partnered with Waste Management on a Diverted Refuse project to support our efforts to reduce our carbon footprint. The results included notable results such as trees saved, thousands of MtCO2e GHG emissions savings, millions in KW electricity savings, and millions of gallons of water saved. We are very proud of these results and look continued success in reducing our carbon footprint.
We work towards waste minimization through safe storage, handling, transportation and by recovering and recycling waste off site. By utilizing the concept of "first in first out" we minimize the amount of chemicals that become unusable after their shelf life expires. Safety training and good warehouse keeping practices allows us to minimize and prevent the generation of hazardous waste. The waste generated by our Horizon Mechanical Shop locations is recovered and recycled off site.