Corporate Responsibility
POOLCORP is firmly committed to safe, sustainable work practices. As a company, our goal is to enrich outdoor home life for families while ensuring the best future for our employees, our customers, and the communities in which we live and work.
Our swimming pool and outdoor living products enable families to create environments Where Outdoor Living Comes to Life®. Our products foster healthy lifestyles and enjoyment of the natural environment, which we believe are well aligned with our commitment to sustaining and improving our local communities. Implementing and executing operating practices that contribute to healthy and safe lifestyles and work experiences is critical to our ongoing long-term success, as a company and an industry.
Actively managing our environmental, social, and governance matters is essential to our role as a global industry leader. POOLCORP is dedicated to continuous improvement by incorporating these practices into our day-to-day operations, establishing measurable goals, and sharing our progress while continuously seeking additional paths for improvement.
To that end, we present our inaugural Corporate Responsibility Report. In this document, we highlight the many ways that we conduct our business in an ethical, environmentally-friendly, socially-responsible, and sustainable manner.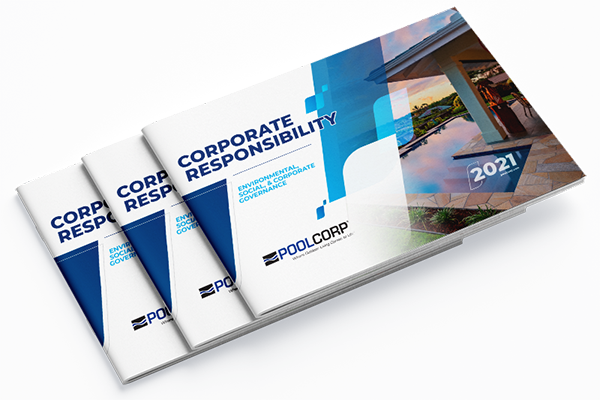 ENVIRONMENTAL:
SOCIAL:
GOVERNANCE:
IMPROVE ENERGY EFFICIENCY
EMPLOYEE CARE AND SAFETY
ETHICS AND COMPLIANCE
REDUCE WASTE
DIVERSITY, EQUITY AND INCLUSION
ALIGNED COMPENSATION
PROTECT NATURAL RESOURCES
GIVE BACK TO COMMUNITY
DATA PRIVACY AND SECURITY
ENVIRONMENTAL:
IMPROVE ENERGY EFFICIENCY
REDUCE WASTE
PROTECT NATURAL RESOURCES
SOCIAL:
EMPLOYEE CARE AND SAFETY
DIVERSITY, EQUITY AND INCLUSION
GIVE BACK TO COMMUNITY
GOVERNANCE:
ETHICS AND COMPLIANCE
ALIGNED COMPENSATION
DATA PRIVACY AND SECURITY